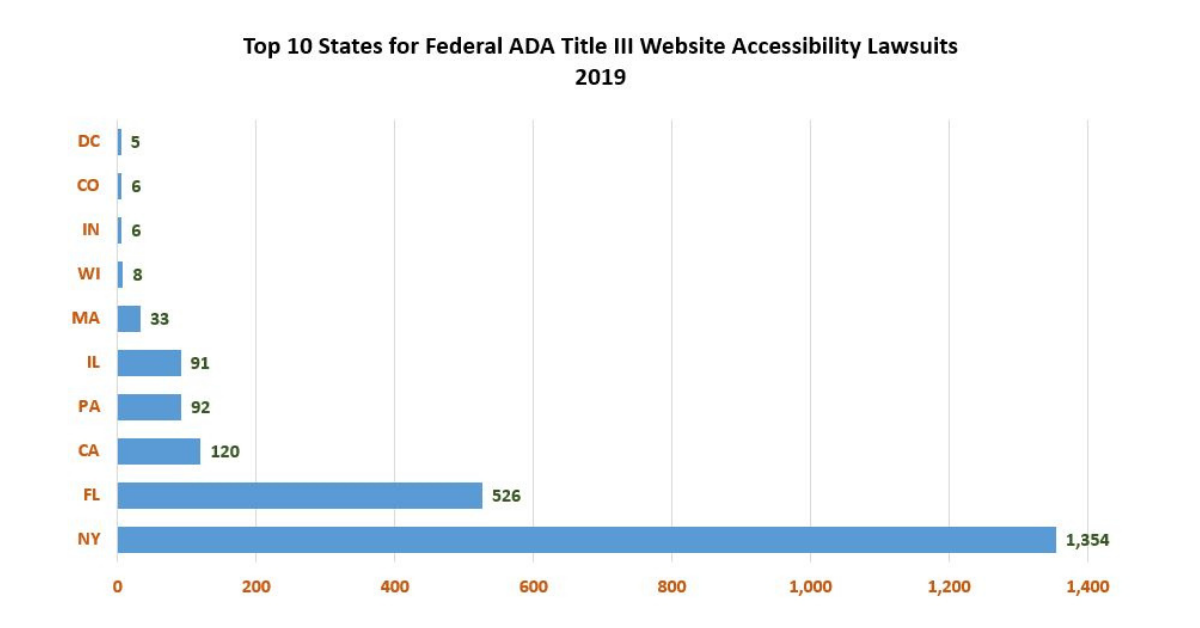 The Curve Has Flattened for Federal Website Accessibility Lawsuits
We've sheltered in place and finished our tally. The numbers are in for total website accessibility lawsuit filings in federal courts in 2019, they show a small decrease from 2018. The total number of website accessibility lawsuits filed in federal court (i.e. lawsuits alleging that plaintiffs with a disability could not use websites because they were not coded to work with assistive technologies like screen readers, or otherwise accessible to them) in 2019 was 2,256 — two fewer than in 2018. In short, the number of suits appears to be leveling out after businesses saw an explosive 177% increase in these suits from 2017 to 2018.
Top 10 States for Federal ADA Title III Website Accessibility Lawsuits 2019
The number of New York federal website accessibility lawsuits continues to be staggering but it is going down, compared to last year. The New York surge began in 2017 after New York federal judges allowed website accessibility cases to proceed to discovery in lawsuits against Blick Art and Five Guys in 2017. The modest decrease in the New York numbers is likely due to some New York attorneys turning their attention to filing hundreds of lawsuits regarding the accessibility of gift cards in late 2019 and early 2020.
For more information on ADA website compliance, see this article from Seyfarth Shaw LLP by Kristina M. Launey & Minh N. Vu